A. General Software Operation:
1. In WCM, can I use the browser back and forward button to move to the previous/next page?
No, WCM is a web-based application, you will need to use the navigation buttons

in WCM UI to move between different pages.
2. Can I add more than one site to manage different players/ groups of players?
Yes, Please refer to 6. Settings → Login by Administrator & Site Management section in
WCM User Manual
3. How can I view the current upload status of media files?
You can click the icon

as shown below to see the status. When the media file(s) are uploaded to the server successfully, the progress bar will be closed and the media thumbnail will be displayed. If the media file size is large, you can continue with other actions and leave the file upload process in the background. The media files will be uploaded completely one by one and you will see the number displays on the icon keep decreasing.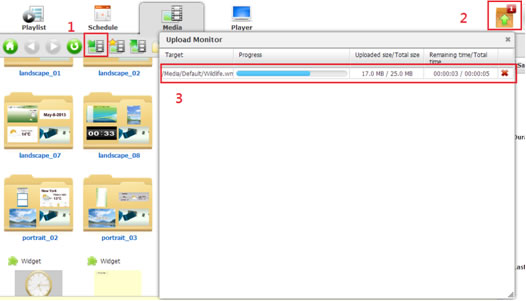 4. What's the recommended resolution when I login to the WCM?
We recommend the screen resolution to be larger than 1280 x 800, so the complete system interface can be displayed.